Rotosound Jumbo King Phosphor Bronze 10's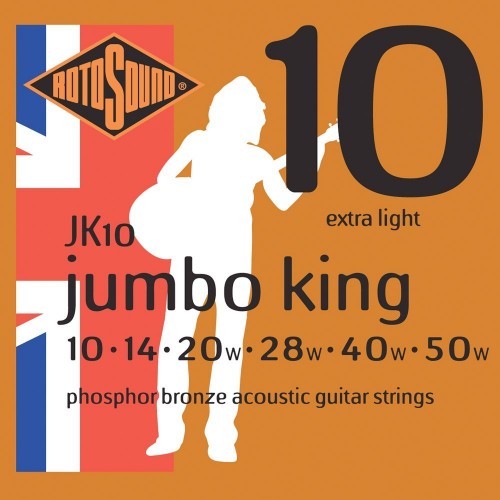 Rotosound Jumbo King Acoustic Guitars Strings manufactured in the UK and still going strong, now with new improved packaging with a focus on the environment.
This light acoustic set of 010-50 is the perfect choice for beginners or players looking for an easier lighter playing feel. A great easy gauge with a wound 3rd although a nice light easy g-string to help with bends but still maintaining volume. Still, the world`s favourite acoustic string that has been around for decades and will continue to do so. With a 92/8 bronze alloy made especially for us to our exacting specifications in the UK.
Rotosound Phosphor Bronze Extra Light Gauge Acoustic Guitar Strings (10 14 20w 28w 40w 50w)

Features
High-quality music strings manufactured in England since 1958
Bright tone & long life and high playability
Long life strings
Finest quality materials
Legendary British tone