Rotosound Super Bronze 12's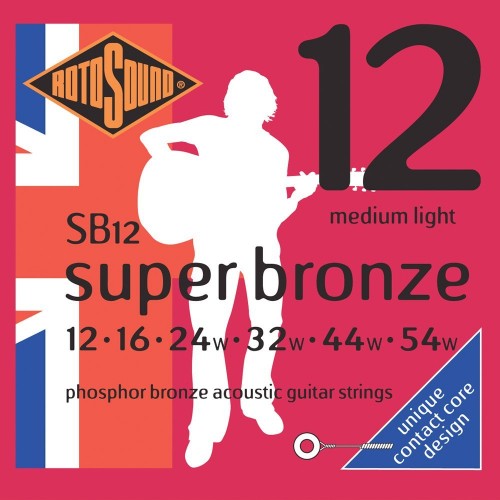 Rotosound Super Bronze Acoustic Guitars Strings are manufactured in the UK and still going strong, now with new improved packaging with a focus on the environment.
This medium-light acoustic set of 012-54 is a standard gauge for most acoustic guitars and generally all ship with 12's. The thing about the super bronze is that the contact at the bridge is plain on all the wound strings so you can have a lower action without an expensive adjustment. Well worth a try initially. Still, the world`s favourite acoustic string that has been around for decades and will continue to do so.
Rotosound Super Bronze Medium Light Gauge Acoustic Guitar Strings (12 16 24w 32w 44w 54w)

Features
High-quality music strings manufactured in England since 1958
Bright tone & long life and high playability
Long life strings
Finest quality materials
Legendary British tone