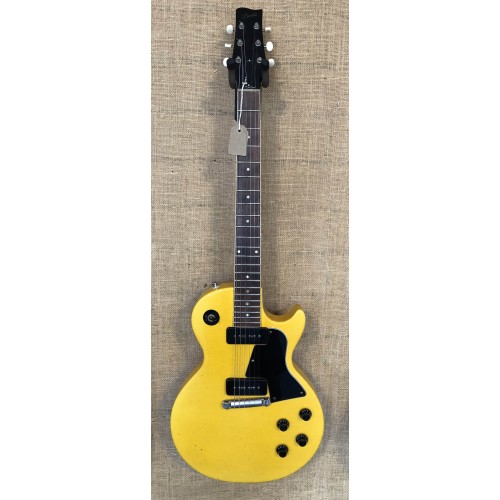 The Flat Top TV Yellow single cut was the first guitar I played from the range and immediately was sold. The feel and quality of the guitar are stunning. Visually the TV Yellow nitro finish naturally aged just screams lush and gimme more. Built from Limba wood with a one-piece Limba neck and Bubinga fretboard with correct vintage Gibson fret scale (pre-60's) the dusty end does indeed feel that bit roomier.
The Pickups used are hand wound Mojo UK P-90 Vintage Spec Bridge 8.5kHz and neck 7.7kHz giving bags of tone and sustain whilst cleaning beautifully when rolling back the CTS pots. All supplied with a Hiscox hard case and a signed certificate of authenticity from Darren himself.
We are changing as shoppers and have much more available information at our fingertips. We need to know the history of the guitar, the timber, the builder, the sweat and tears, the electrics, who wound them and what the benefits are. Well speaking as a guitarist of over 30 years and an avid follower of the MI industry this particular Flat Top blows the socks of a Gibson.
Specification
Flat Top TV Yellow
Nitro Finish non-Plasticized Naturally Aged
Body Limba
Neck One-piece Old Limba
Bubinga Fingerboard
Vintage Gibson Fret Scale (pre-60's)
Nylon Nut
CTS Pots
PIO CAPS (PAPER IN OIL)
Kluson Single Line Tuners Period Correct Aged
Switchcraft 3 Way
Switchcraft Jack
Mojo UK P-90 Vintage Spec Bridge 8.5kHz Neck 7.7kHz
Radius 12"
Profile Vintage Gibson Soft V
43mm Nut Width
Pickguard Vintage Spec Period Correct 4 ply
Kluson Wrap Tail
Vintage Correct Stud Bushings and Studs.
Hiscox Hard Case
Certificate of Authenticity