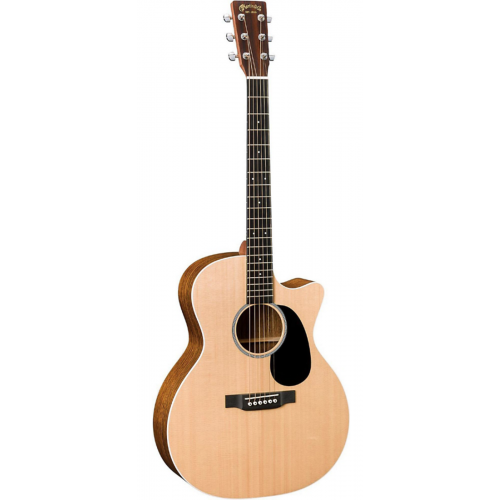 The GPCRSG is a cutaway Grand Performance model that is crafted with a Sitka spruce top and mutenye back and sides. This guitar produces a beautiful even tone with the good bass response and clear mids and trebles. The GPCRSG also features a Richlite fingerboard and bridge, high-performance taper neck and Fishman® Sonitone electronics to make this guitar ready for the road.
Select Tonewood
The timber used to build the Martin GPCRSG is solid Sitka spruce on the top and the choice of mutenye is selected for the back and sides. This pairing of woods delivers a gorgeous tone just right for the each other. Bell-like highs with warmth and depth. The grain is straight or interlocked and the texture is fine. It looks like a very natural mahogany and is pleasing to the eye. The characteristics of this guitar are individual and recognisable. Amplified this guitar sounds incredible.
Fishman Sonitone Preamp
Equipped with the Fishman Sonitone preamp. This Martin guitar offers control from 2 subtly positioned wheels inside the soundhole, offering volume and tone adjustments. Easy access allows you to dial in the correct amount of tone you desire, so if you like to flatpick or fingerpick you can roll off the tone to help you cut through any mix. A superb feature, just remember which side is volume!
Finishing
This beautiful Solid Timber guitar adorns the C.F.Martin logo which is desired by so many guitarists. This GPCRSG is a perfect choice for the money, a huge brand which offers quality instruments at very affordable prices.