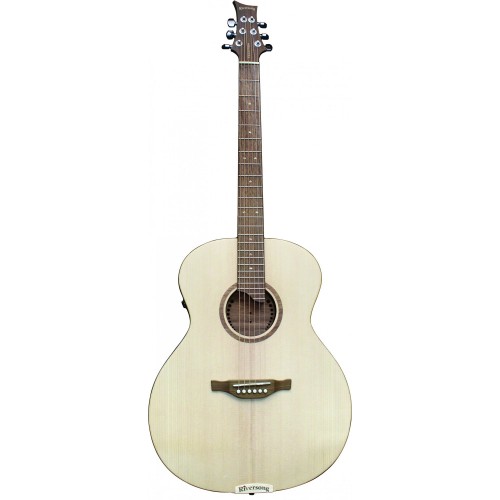 Riversong Tradition Magagna Signature Model.
This stunning all solid Riversong Tradition Signature Series is the thinking from of world-leading expert in acoustic guitar business, David Magagna. David started out working for Martin Guitars and worked his way within the company to Vice President of sales before moving on to the Taylor guitar company which realized huge growth and awareness from David's business formula. David has also helped grow great companies like Guild, Lowden, PRS and eventually Riversong.
Riversong guitars are built with Neckology tech- a solid neck that runs through the length of the instrument which can be manually adjusted to YOUR preference. This model features Skelitized bracing meaning less mass giving a better tone.
Quote
After coming out of retirement he told Mike Miltimore...
" I have a very low threshold for boredom and that Riversong is the only company doing anything of interest"
David felt that Riversong needed another model which he designed that has become known as the Riversong Tradition Magagna Series.
Specification
Skelitized Bracing
Patented RS Neck
Patented Double Reaction Bridge
Western Walnut Back and Sides
Sitka Spruce Top
Walnut neck and Fretboard
Fishman USA pickup
Conceptualized by David Magagna & Mike Miltimore
Canadian Made
Limited Lifetime Warranty